Latest News & Events
Latest News & Shop Happening's
Here you can read up on the latest events, news, promotions and specials that goes on at our shop. We are a NAPA AutoCare Center, meaning we're back up by the top national brand and warranty while still maintaining the quality service an independently owned business .
Please click here to request an appointment at our shop!
Alpharetta Roswell Auto Clinic Launches NEW Website!
We got a new look! The Alpharetta Roswell Auto Clinic has launched a new website to better serve our customers. We understand that the web is taking over how our customers are looking for services. With our website, now you can stay connected with us anytime and learn more about our quality services.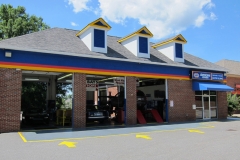 Alpharetta Roswell Auto Clinic has been providing quality auto repair in North Fulton since 1995.  Michael Tyler is the new owner of Alpharetta Roswell Auto Clinic.  We are a family owned and operated business.  Michael purchased Alpharetta Roswell Auto Clinic in December of 2009 from Bud Hardin who retired from the business.  Bud (and his brother David) had been in business since 1995 and felt Michael would be the right person to continue the long standing tradition of great customer service, morals and values.
Our Philosophy: "It's all about trust." We're honest and polite with everyone.  Our customer-service philosophy is simple: we treat people the way we'd like to be treated.  If you do that, you'll be successful.
Feel free to browse around our new website and let us know what you think. Please come back frequently to check out the latest news, photos, advice & promotions.